5 CREDIT SCORE FACTORS:
HOW IT WORKS
FICO SCORE
The FICO credit score was first introduced in 1989 by FICO, then called Fair, Isaac, and Company. The FICO model is used by the vast majority of banks and credit grantors.The FICO credit score is based on consumer credit files from information reported to three national credit bureaus: Experian, Equifax and TransUnion. Each one of the credit bureaus have their own criteria, and credit scores may differ between bureaus. When you work with Heartland Credit Restoration, you'll learn how to manage your credit effectively.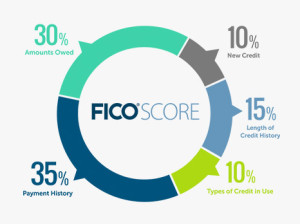 01
PAYMENT HISTORY
The first factor considered in your FICO score is your bill paying history. To get and maintain good scores, it's important to pay bills on time. With any missed or late payments, it can take 7 to 10 months of an on-time payment history to regain valuable credit points. We help our clients learn how to pay bills on time.
02
BALANCE TO CREDIT LIMIT
This represents 30 percent of your FICO score. Credit bureaus look at how much debt a consumer has compared to the credit limit for each account. For example, a $10,000 credit limit with a $3600 balance has a 36% balance-to-limit ratio. The goal is to maintain accounts with a 30% balance or less.
03
ACCOUNT HISTORY
Account credit histories account for 15% of your FICO score. The longer the history, the more positive weight it carries. Simply put, older accounts improve your score. Don't close your oldest credit card accounts; keep them open. Closing an older account can actually hurt your FICO score.
04
NEW OPEN CREDIT
10% of your FICO score is pulled from new credit. Too many new open accounts will have a negative impact on your score. However, there is wisdom in "dripping" new credit into your profile. As part of your credit repair process, we'll help you navigate the waters of credit change successfully.
05
TYPES OF CREDIT USED
The types of open credit represents 10% of your FICO score. A variation of account types, such as credit cards, retail accounts, installation loans, and mortgages can have a positive impact on your credit score. High interest consumer loans are considered unhealthy types of credit and can cost points.